How On-Premise Collaboration Software Helps Enterprises To Manage Corporate Data And Communication Challenges
Before the wide spread of online video communication software and video-enabled mobile chat apps, most of the corporate communication happened via emails, letters, and phone calls.
However, with unified communication strategy in mind and the growing need for better efficiency, productivity, and a secure work platform, enterprises are now considering installing an on-premise video conferencing and collaboration software that can be scaled as required.
The right enterprise video conferencing software offers global companies agility and productivity, no matter where employees are located. Companies with a well-thought-out video conferencing solution don't fear the changing landscape of today's global economy and evolving workplaces. Enterprise video conferencing provides a competitive advantage when it comes to seamlessly handling high-priority tasks and nurturing high-quality customer experiences.
But what is on-premise software installation, how is it different from cloud computing, and why business should prefer on-premise over cloud installation?
What is a Video Conferencing and Team Collaboration Software?
Video communication and collaboration software, at its core, is a platform or tool that allows teams to start video chat, interact, exchange files or documents, and collaborate on them in real-time. These software replicate the need of a one-on-one conversation or face-to-face meeting with team members (like those meetings you've in the office).
What is On-Premise Software Server Installation?
On-premise software server (including video conferencing servers) is installed on the premises or computer of the organisation using the software. This type of software installation setup requires the company to have their in-house server.
Hence, in an on-premise software installation method, organisations retain all their data (in the servers owned by them) and hence, they are in complete control of what happens to it.
Enterprises or agencies operating in highly regulated or data-sensitive industries opt for this type of software installation because they have extra privacy concerns.
A popular alternative to on-premise implementation is cloud deployment and SaaS. In a cloud computing deployment, the data is hosted and owned by the third-party service provider. A client may be able to access those data or files, but they don't own them. Since they don't servers, it allows them to scale up or down as required and pay on an as-required basis.
On-Premise vs. Cloud Deployment of Collaboration Software.
1. Cloud Deployment.
With the changing work landscape, now we have, in the market, hundreds of office chat apps or remote collaboration tools – where most tools offer cloud deployment, and some others, on-premise installation.
Many leading cloud solutions already have millions of active users who use these apps for their business communication or collaboration. However, one of the biggest concerns for a lot of organisations is privacy and security. A wide range of businesses have dealt with security breach issues on office chat apps – where a company's data was stolen and corrupted – causing the organisation huge operational and financial loss. Hackers, in the past, have been able to gain unauthorized access why and peruse collaboration software's central database.
Security breach possibilities on cloud servers might not be a major problem for some of the organisations. However, companies that operate in an extra-sensitive environment or have sensitive data, such as federal agencies or banking industries require a certain level of privacy and security that a cloud server might not provide.
Despite all the security measures and promises, security remains the biggest concern to a cloud computing deployment. There have been several publicised cloud data breaches, and thus the IT departments across the world are still working to make it full-proof.
But as of now, the security threats are real – from personal data theft of employees and customers to admins login credentials, and loss of intellectual property – it has all happened in the past.
2. On-Premise Installation of Collaboration Software.
As explained before, in an on-premise software installation, all resources and data centres and located within an enterprise's IT infrastructure. With all the control in the hands, and custom data center, company's get an edge in terms of security.
On-Premise servers, basically air gapped servers, also facilitate companies to have easy access to data. Since there's an internal network, data is accessible anytime, despite the internet connectivity. On-premise installation of collaboration software enables companies to get benefits in terms of security, feasibility, data and control.
Why On-Premise Software Server is better for Enterprise Communication and Collaboration?
Online video communication and virtual collaboration has become routine as the morning coffee. And collaboration software, thanks to their feature-rich capabilities, have become a preferred way for businesses and team members to stay in touch, irrespective of physical distance.
Today, virtual collaboration and instant messaging technology is widely used both by government agencies, non-government organisations, private businesses – streaming meetings and conferences online, sharing data, and helping people work from home more efficiently. As most of the world began working from home in 2020 due to COVID-19, video conferencing and collaboration software proved a vital link in a time of crisis.
Big enterprises have special purposes such as corporate data security tasks, financial oversight, management of resources, and more. All of these job roles require enterprises to maintain privacy and security, and ensure data is accessed only by internal team members. Any unauthorised data access by external team members or hackers can cause rift between teams or company's departments, and in the worst case scenario, cause major security or financial issues for the entire enterprise.
While many businesses and enterprises immediately opt for cloud deployment, a federal agency has a lot more security, privacy, and data control checkpoints to consider. Apart from security, below are seven more reasons for federal teams to opt for on-premise deployment:
1. Data Control.
With On-premise collaboration software server deployment, the company stays in complete control of their data. A team video conferencing and chat software handles confidential business data of all types – accounting, expenses, project cost, employee personal details, business intelligence, and similar information that have significant value to intruders.
When enterprises host their collaboration software on-premise, they are in control of everything, from data storage servers to security measures that can be deployed. These enterprises are not at risk because the cloud-based servers of service providers are insecure.
2. Less Dependency on the Service Provider.
While the SaaS or cloud based models are hailed to be highly flexible, most of the technological decisions about the software and data are made entirely by the service provider. So, if a vendor decides anything that's not feasible for your business, you'll need to do a lot of scrambling to make things work again.
This type of deployment is not suitable for big businesses that are required to communicate securely without relying on the service provider. On-Premise Collaboration software removes the service-provider dependency so the company is free to change aspects of the system as required.
3. Customisation Option.
With On-premise installation option, businesses get easier customisation features as well. Cloud solutions certainly offer easy integration with third-party apps or software, they don't provide enough customization options. On the other hand, the on-premise collaboration software allows businesses to customise app features according to their workflow.
4. Reduced On-Going Cost.
Yes, the initial investment or the up-front cost of on-premise deployment is more than cloud computing. However, the total cost of ownership turns out to be lower. You don't have to pay the recurring subscription based fee or per user fee. The only ongoing cost your organisation will be paying is IT maintenance fee and energy bills.
Other Benefits of Using a Collaboration Software.
1. Online Video Interactions.
Video conferences and virtual meetings are the heart of modern enterprise collaboration platforms. Video conferencing encourages and supports collaboration and communication and brings company leaders into the room with their teams and employees regardless of location. Hosted enterprise meeting software solutions allow businesses to face the challenges of a global economy in a secure and cost-effective way.
2. Instant Messaging.
In-app messaging is an important office collaboration tool, not for personal communication as before but mainly for business interactions. One-on-one conversations and group chats across teams and departments increases efficiency of enterprise collaboration. Allowing the team to communicate in a corporate messenger makes it possible to cut down on long meetings and never-ending email threads.
3. Real-Time Screen Sharing.
One of the features that makes collaboration software highly efficient for remote work is screen-sharing. Through screen sharing feature admins or team members can give presentations, display a technical process, explain documentations, and do a lot more than the regular video call. Screen sharing brings more context to virtual interactions since people can display screens, documents, presentations, videos, audios, and all kinds of files on the host's screen.
4. Secure File Sharing.
Another important feature of any collaboration tool is secure file sharing. In order for remote teams to work effectively, they need to frequently share files, documents, and collaborate on them – without worrying about the possibility of shared data falling in wrong hands. An ideal collaboration app facilities just that – so files can be shared securely in real-time, irrespective of format, size, or storage location. All in all, this feature allows teams to work together simultaneously on tasks.
5. Recording and storage
Taking meeting minutes and notes verbatim deserves more kudos than it gets, because the benefits far outweigh the hassle. Also meetings recording is useful when you want to review the meeting later, or share it with people who couldn't attend to maximize the information value.
VideoMost is Genuine On-premise Video Conferencing Server
for Business Communication and Collaboration
At its core, self-hosted VideoMost software video conferencing server with web, PC and mobile clients is an enterprise platform to have virtual meetings, personal and group text chat, share files securely, record and store data in the server of choice.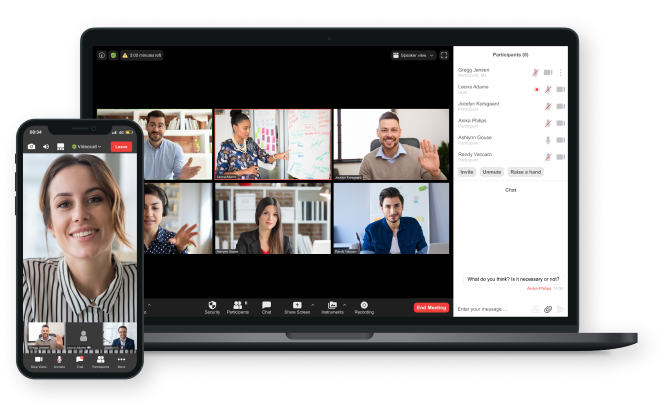 Developed as one of the most reliable virtual collaboration software, VideoMost is specially designed for business-critical communication, where every video, text, file, screen sharing managed by on-premise server, not a cloud service.
Benefits of self-hosted VideoMost Server for enterprises:
Secure and scalable architecture that enables productive meetings from anywhere;
Built-in collaboration tools to share docs, apps, screen and discuss them in real-time;
Chat, polls, file exchange for higher user engagement;
Preserved video and audio quality due to high bandwidth channels;
Server admin panel can be accessed by authorized users only;
User accounts management – create, edit, delete;
Compatibility with hardware video conferencing terminals.
Easy deployment using an industry-standard virtual machine
Fully supported regular product updates and enhancements
White-label license to customize interface with your logo and colors
Conclusion.
With on-premise VideoMost software server deployment your teams remain engaged, productive and happy, and your vendors, partners and prospects will enjoy a deeper connection with your organization. Companies around the globe are using VideoMost to privately and securely communicate over video between working groups or individuals or share information and updates across different departments and branches