VideoMost Server
Enterprise video conferencing with mobile messaging and content sharing
Enable people team work from any device / any network by using powerful and complete VideoMost enterprise-grade secure communication platform.
500 video participants in a conference room with extensive collaboration tools, including docs and screen sharing, whiteboard, mobile messenger, polls and more.
Using both Scalable video coding (SVC and MUX) and traditional MCU (MIX) architecture VideoMost automatically and dynamically adjusts video quality to available network conditions and CPU utilization throughout a conference session, and provides total legacy HW (Cisco, Polycom, Avaya, etc) and Microsoft software (Outlook, Exchange, Skype) interoperability.
A single VideoMost scalable server software handles up to 500 concurrent video ports on a commodity $2K Intel PC platform
VideoMost is like Zoom, but self-hosted video conferencing server and available for licensing at a fraction of competitors cloud prices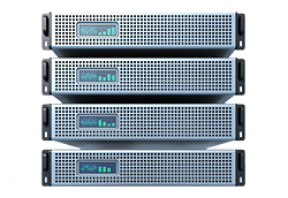 Join anywhere, from any device:

Windows

Mac OSX

Linux

IOS

Android

Browser

HW Terminals

PSTN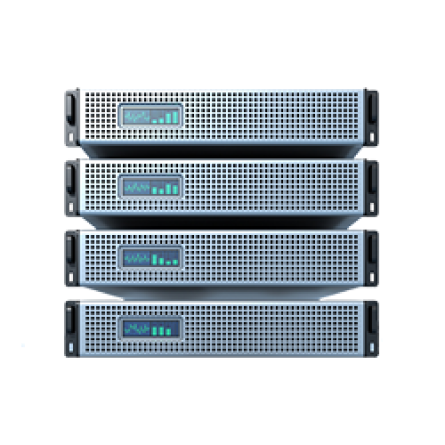 VideoMost Features
Self-hosted corporate video server
Gain complete control over enterprise communications - deploy VideoMost Server within corporate infrastructure to keep all important and secure date inside. Complete interoperability with all modern VPN encryption solutions supported
Windows/Mac, iOS/Android Clients, Linux
Join VideoMost via any user terminal: PC, notebook, tablet, smartphone, phone, video-phone or MCU. Access videoconferences using web browser or application
SIP/H.323 hardware interop
Seamlessly connect conference room hardware or third-party video conferencing platform to software VideoMost video conferences. Invite HW users to discuss and collaborate with VideoMost participants with no limits
Group video inside mobile messenger TeamSpirit.im
TeamSpirit seamlessly integrates with the VideoMost SDK to support group video calls with up to 100 people meetings in one room
WebRTC Support
Start and use video meetings directly from web browsers supporting WebRTC
Integration with Outlook, Skype, Exchange
Use address book, share invitations, schedule and manage video conferences directly from Outlook/Exchange calendars. Invite Skype patricians using conference call-in and call-out
Enterprise-grade audio and video quality
Wide range of standard and proprietary voice and video codecs, additional processing algorithms (AEC, NC, AGC, etc) and built-in network adaptation technologies guarantee best possible experience for every conference participant
Content sharing
Screen sharing, slide show, whiteboard, file exchange, chat, video recording, etc – all to make team work and collaboration more interactive and efficient
500 conference participants
Hold conferences for 300 participants. Keep your audience engaged: manage presenters, set video layouts, create polls, get feedback using chat
CDN video broadcast to million viewers
Scale up a video conference audience to millions viewers using VideoMost Servers' inbuilt CDN streaming technology
Advantages
Enterprise Video Server
SFU (MUX) + MCU (MIX) architecture
Servers cascading / federation
Flexible video layouts
Large conference rooms
Conference moderation / recording
TLS, SSL
UDP, TCP, HTTP, HTTPS
STUN, TURN, ICE
RTSP and RTMP broadcasting
CDN video broadcast to YouTube, etc.
Collaboration tools
Screen and app sharing
Slide show
Whiteboard
Mobile video messenger
Polls
File exchange
Text chat
Seminar mode
Total interoperability
SIP/H.323/XMPP
BFCP/H.239
Server REST API
XML-RPC API
WebSocket API
WebRTC and Scalable video coding
Outlook/Exchange/AD integration
Skype interoperability
Mobile client SDK
Data Flow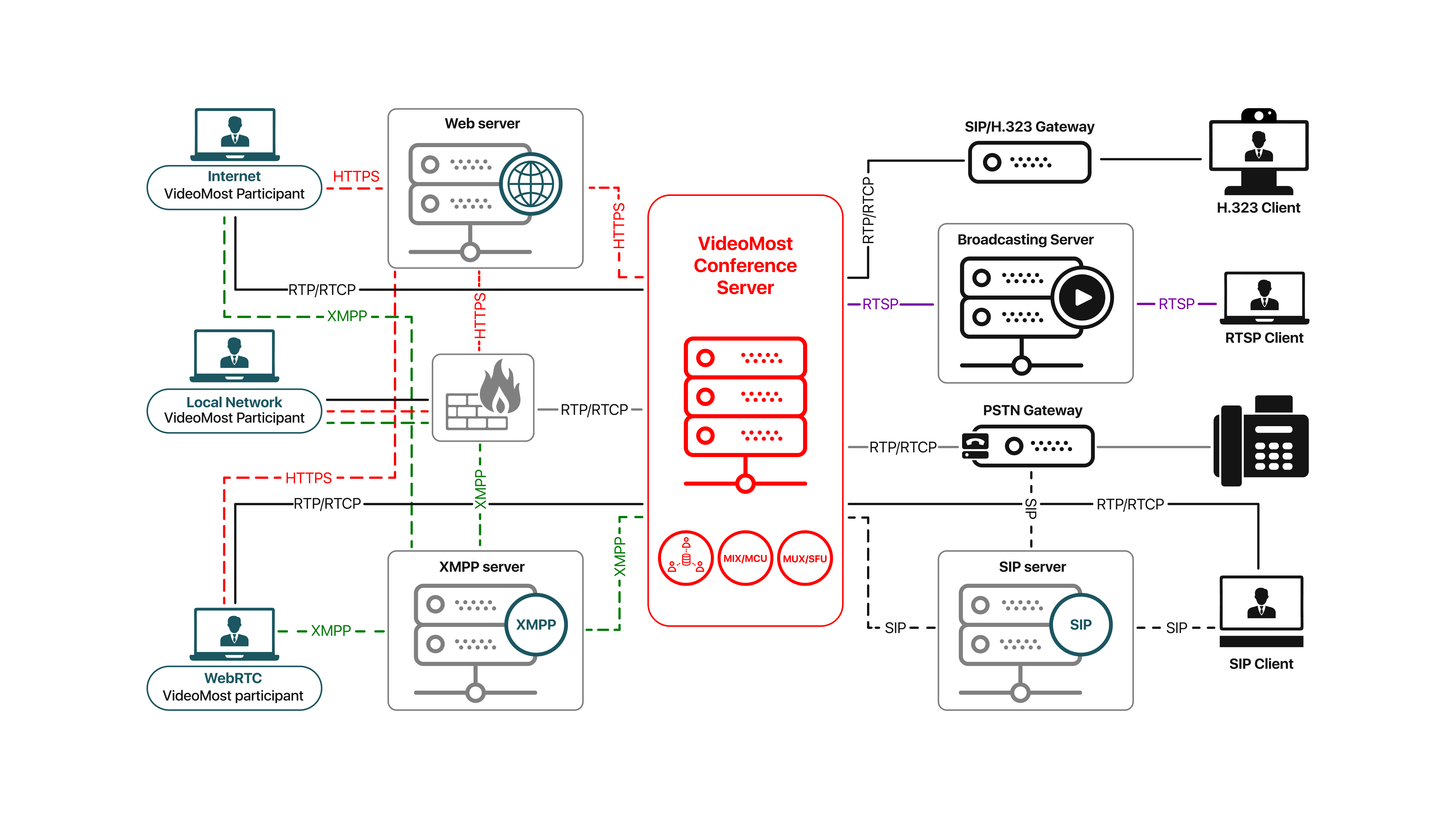 Self-hosted software video server
complete control over corporate communications by keeping 100% of data and media flow inside the enterprise:
Administered by corporate IT specialists
Preserved video and audio quality due to high bandwidth channels;
Server admin panel can be accessed by authorized users only;
User accounts management – create, edit, delete;
Compatibility with hardware video conferencing terminals;
Administering and monitoring
Video conferencing platform for modern workplace both in the office and at home:
Secure and scalable architecture that enables productive meetings from anywhere;
Built-in collaboration tools to share docs, apps, screen and discuss them in real-time;
Chat, polls, file exchange for higher user engagement;
Monitoring for correct server running;
Total interop. Global standards
and open protocols support
Integration with popular open source software products and protocols
VideoMost cluster can handle virtually unlimited number of users/ports. Typical cluster scheme is shown below

Access VideoMost via web, desktop, mobile
Get your license
for on-premise video conferencing server